- UPDATE (5/29/2003): My Cutlass has been sold. That's right, after two years of joy and pain, I have passed on the Cutlass to another lucky owner. So what does this mean? Means I may be in the market for a newer W-Body... who knows! But also, there's been some questions concerning the future of this site: and to that I say "yes"; W-Body Performance will continue on. W-Body Performance will last due to a demand for help on the 3.4 Liter DOHC V6 and expanding to the 2.8L / 3.1L MPFI V6 and 3100 SFI V6 with the cars surrounding the motor. -
Ah, yes, my 1992 Oldsmobile Cutlass Supreme SL... a wonderful edition to the stable after wrecking a very clean 1989 Chevrolet Beretta GT in late December of 2000. I found the Cutlass at a local used-car dealership and snatched it for cheap. Like all used cars, it need some serious cleaning and a few maintenance items had to be dealt with, but it runs clean and well.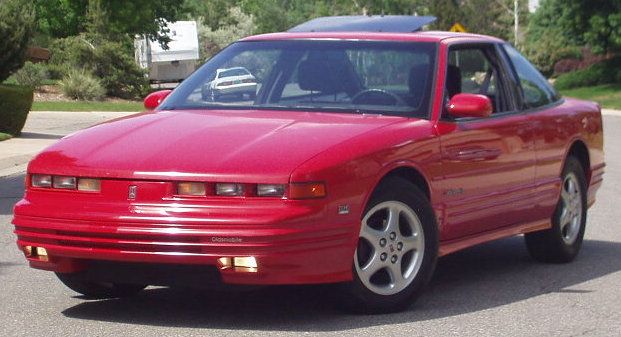 Drooling for the open road; and stopping for nothing but for refills and pit-stops. Just the way I like it...
It has the all standard equipment and then some... especially being from the more refined side of GM. Along with the 3.4 liter DOHC V6 and a four speed automatic transmission with overdrive, the car has the essentials: power windows, power dock locks, power mirrors, cruise control, 6-speaker surround with AM/FM CD deck with steering wheel controls, automatic climate control, factory fog lights, remote keyless entry and 16" saw-blade Aluminum wheels.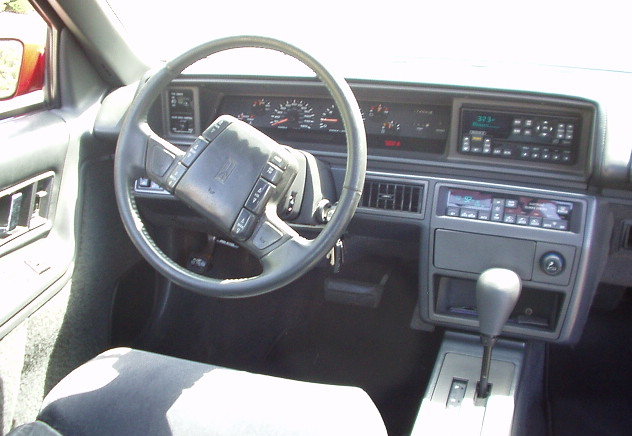 The instrament panel is very easy to read, since only the major four gages include oil pressure, water tempreture, voltage, and fuel tank capacity. Along with a good size tachometer and speedometer, this setup has a lot of potential to be updated and accessorized. Nothing is far out of reach and the readout for the push-button climate control are accurate.
For being a ten year old car, it doesn't look bad at all. Now grantid these pictures don't show all detail, it's obvious that the car is not perfect. There is some oxidation of the clear coat in some spots and the entire front end is chiped up from rocks and gravel. There are a handful of door dings and twice as many scratches in the paint, but that doesn't matter to me too much. I just hate it when I come out and find another one after parking in a grocery lot twenty feet away from the rest of the crowd. How's that possible!?!? But nonetheless, kickin' the crap out of your driving opponent... now that matters.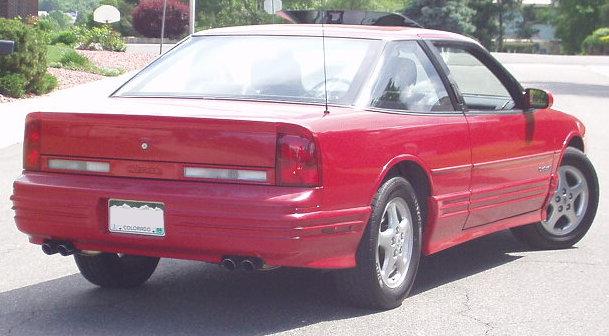 As the months moved on, I added some other equipment to call it mine. My first move was to add the 16" 5-spoke Cutlass convertible wheels to the car. With finding straight rims at a local junkyard, the overall cost was kept down to a minimum. After collecting a full set, I had them sandblasted and refinished through Keystone Inc. Wrapped around with some new Phantom HRX's (P225/60-R16 97H), the car looks very sharp with the new set of rubber. Next I had a sunroof put in by a company called Jazz It Up, located in south Denver. It really helped me out, especially for all those sunny days, and keeping the interior cool during the summer. The last major appearance modification was that I added on the Cutlass convertible rear spoiler and light fixtures. Once installed, the car had a more 'sporty' image for being a two door coupe.
Now it was unto the little exterior and interior highlights. Within the last few months (March 2003), I've been color matching some of the exterior / interior parts to give subtle enhancements to make my car stand a little above the crowd. Using General Motors paint code located on my spare tire cover, I was able to locate matching Bright Red paint to cover the back-up light assembly, both side rear-veiw mirrors and the front light bezels. It blends extremely well, and I like how the red matches to the rest of the car. Also, while removing / installing the mirrors, the door speaker grills were painted trim black to give some off color to the graphite interior. Also, a 1997+ Grand Prix shift knob was installed (working on installing shift boot as well, more details to come) and it fits perfectly and love the look it brings. It's amazing how the little things can bring some much attention; try it yourself, it's quite fun.

But unlike the imports of today, appearance is nothing compared to whats moving the sucker. I personally have been taking care of the drive-train and have been able to squeeze a little more power out of the engine not by supercharging (but which is a current project at the moment) or high volatile Nitrous Oxide, but more of the little things over looked by many common motorists. Along with some AC Delco Rapid Fire spark plugs, and a set of Magnecor 8.5mm plug wires, fuel economy and power has been increased by about 5 hp. I've placed in a K&N drop-in filter for more cool air from the airbox. Also, the stock mufflers have been removed to remover unwanted excess back-pressure, and a pair of Flowmaster Turbo II muffler have been installed. The straight-through mufflers give the exhaust note a good pur when sitting at a street light. As like all gearheads, small minor performance parts are on the way, and I'll fill you in when that happens; but don't hold your breath to find anything big.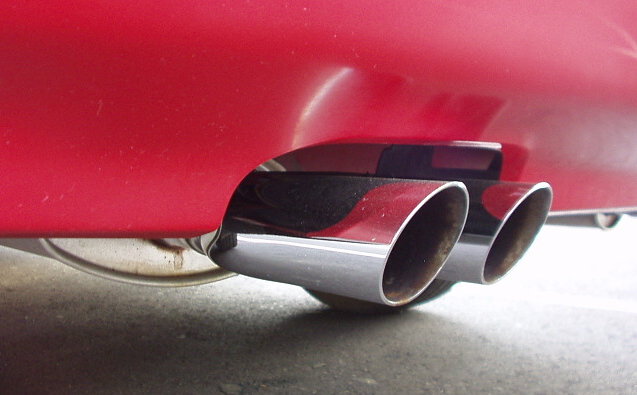 The driver side exhaust tip; the chrome accents the vehicle really well.
The deserted research project at RSM Racing:
the entire 3.4 liter supercharger setup.
It would inlcude upper intake manifold,
reprogramed ECM/PCM, Mass Air Flow sensor,
stainless steel piping / rubber gaskets and
the Vortech supercharger (est. 9 - 15psi boost).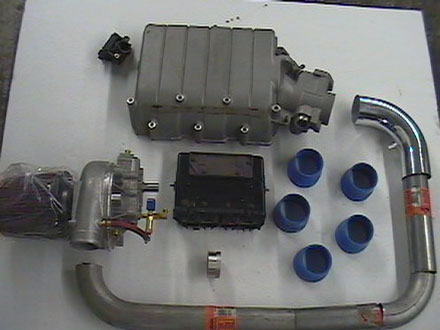 Although the Cutlass has been good, I have hit some minor ruts with keeping it running in tip-top shape. As automobiles age, mechanical failures are expected, especially when the car goes above 100,000 miles. I've done my fair share of replacements and installations, so I quickly recap on the current situation.

-- (Feburary 2001) Basic oil changes and windshield replacements are very little things compared to serious drivetrain problems. The first thing to blow out on the Cutlass was a cracked radiator and a blown water pump, due to an unseasonable cold day. I rebuild the radiator and replaced the water pump, and finished that project with changing out the thermostat, hoses, and refilling the system with new coolant. A dedicated half-day of work was all that took...
-- (March 2001) I lost the original starter not much sooner. Unfortunately, I couldn't that myself, and required the help of my father, working on it in the driveway after dragging it home one Saturday.
-- (April 2001) Then went alternator. For all you gearheads who know or own an 3.4 DOHC, you know where GM put the alternator. After reading my service manual and surveying the problem, I realized I don't have the tools or the patience to disassemble the passenger front suspension to pull out a dead power supply. I was able to bring it in and have it done for a very good rate at Lamar Automotive.
-- (September 2001) Brakes serviced: self explanatory. Had the driver rear caliper replaced, due to that it was sticking together along with four new rotors / sets of pads. Also, had the tie rod ends replaced because the originals would not hold the new alignment and the grease boots were torn and ripped to sheds.
-- (January 2002) Replaced timing belt after car failed to start after stalling on highway. A very long project since belt shreds had to be removed as well as resetting the timing for the entire engine. As well, replaced the belt pulleys, camshaft seals, and the actuator to ensure nothing else would be a problem. Average belt life is around 55K - 60K, made it to 164K on original one. After timing was set, car runs smoother, better fuel economy, and the car has more "get-up".
-- (March 2002)
Rock shattered a lense to a fog light. Very easy repair with new glass plane and some epoxy. Check
Tech Tips
for full details.
-- (June 2002) Replaced upper and lower intake manifold after finding out it began to leak oil, coolant, and letting in unfiltered air all at once. Not the most fun project, but worth the effort and time.
-- (February 2003)
Gravel in the mountains shattered a lense to a fog light. Very easy repair with new glass plane and some epoxy. Check
Tech Tips
for full details.
-- (March 2003) Replace driver side power window regulator after the motor went out. Half day project to find new motor at a local yard, remove old and install replacement, and to fix rattling body panel.
-- (March 2003) With 170K miles on the original dogbone motor mount, it was replaced since the rubber bushings were cracked and parts were missing; therefore significant engine roll in engine bay. Bought OEM replacement from local parts store; wanted to buy poly dogbone but couldn't afford it at that time.
-- (April 2003) After two year of owning the Cutlass and no working keyless entry, I finally got around to sorting out the problem. After reading up in the service manual, performing on - vehicle tests, trying four different junkyard keyless modules and a locating newer remote, it finally works! Bonus, now I can shave off the door locks... um... maybe not.
Current Odometer Reading (5/29/2003): 174,885 miles when sold
Overall, there's been little wrong with the car. Basically all that was replaced was either designed to wear out or some parts lasted longer than expected. But preventative maintenance is the key to have the car last longer. I figure it'll be wrecked first before the engine or transmission decides to fall out from under me.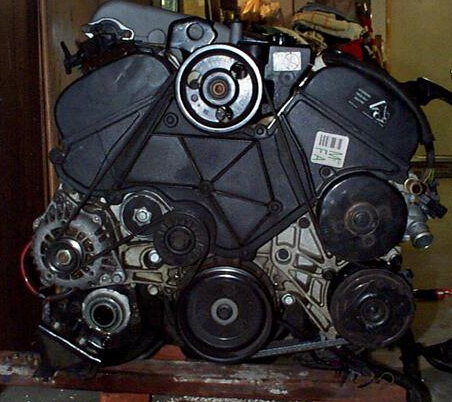 The passenger side view of the 3.4 liter DOHC V6. If you start at the top and follow the serpentine belt clockwise: power steering pump, water pump, A/C compressor, crank pulley, belt tension pulley, and the alternator. Now with the engine out, the alternator doesn't look that big a pain to remove...