AIR FILTERS

About the most easiest way to grab a couple extra horsepower from your engine is letting your DOHC suck in more air, faster and non-restrictive. The most basic upgrade is a K&N filter drop in that will use the existing stock air box. For the 1990 - 1993 motors, the stock number for the drop in is #33-2038; for the 1994 - 1996+ motors the stock number is #33-2063-1. The filter runs around $45, and expect to see about a 3-4 horsepower gain from that product.

For all of us gear heads, we know that engines crave colder, dense air for running their best. The best way for that is to have the intake air pulled from outside the engine compartment. K&N is also know for these types of systems, but unfortunately, K&N does not provide a Fuel Injection Performance Kits (FIPK) for the 1992 - 1996 W-Bodies. Many, including myself have e-mailed to create such a model, but very little responses have been returned about the idea. Cross your fingers, but don't expect anything anytime soon.

Although, many creative people have created there own cold-air intake system by using quality parts through many different home improvement stores and such, I have not been able to research the design well enough to make one for myself. But there are many other sites of people who have a concocted such a device, check them out and and questions about it. Best of luck with that, and if anyone has any ideas please feel free to share the good news!!!
BRAKES

Okay, you got you car as fast as possible, but it's time to stop the beast... On a stock W-Body, the brake pads are made from an organic materials which have good wearing properties, but the stopping distance is very poor. New pads, rotors and even bigger calipers are not hard to find at all. Many companies have available on-line catalogs that will search for the system provided by that certain company.

Overall, the more surface the pad touches the rotor, the more stopping power you have. But with the power comes a price gap: it starts anywhere from a couple hundred dollars for basic performance rotors / pads for all four wheels to as much as $2000 for the bigger caliper conversion plus all the hardware. Also, think about stainless steel braided brake hoses for easy maintenance and performance. Since our cars are getting older buy the day, it might be wise to replace those before they bulge and burst. Personally, grab some performance pads / rotors and brake lines and slap them on. $2000 can get you better things... at least I think so.
An easier solution to help stopping power is updating the brake booster hose from the master cylinder to the intake plenum, it's a growing issue over the years as W-Bodies age. Heat from the LQ1 expands and dries out the rubber hose and poor braking / pedal to the floor can exist; even with the installation of new brake components. Check often and replace when brake pedals feels mushy or non - responsive.
COMPUTER CHIP

The computer chip is the heart of your electronically controlled vehicle. The chip is installed into you ECM, which is either located under the passenger side of the hood or under the glove box, depending what year of W-Body you own. The Memcal chip hold's the timing, fuel, spark and all other computer related functions. There are over 800 functions that this computer chip holds. And only 8 of them are changed for increased performance.

There are a handful of companies who sell the upgraded chip. Do your homework before buying and installing one. Many of the companies will answer questions via e-mail, if your unsure or tense about making a selection. Always remember though that price, warranty and tech support are three key things to keep in mind just in case anything happens. Depending on which company you choose, many claim to boost you horsepower from 10-20 and your torque around 12-18 ft/lbs with some other minor modifications. But money is a big thing too, and the sticker price isn't the best sometimes; so anything around $200 or less is fairly a good buy, depending on what the company claims.
EXHAUST

Now, since your DOHC can suck in more air, how about the exhaust system? GM has made a decent effort to keep the sound quality of the exhaust note, but has failed to realize that there are serious problem with back-pressure and flow restrictions. To find a Cat-back system or even headers, is very hard to locate. Again only a handful of companies offer such products; but the ones who do, have quality behind their name. These system can be quite expensive, around $700-800 for the Cat-back exhaust, but the return is pretty good: anywhere from 10-18 more horsepower is expected along with a good, solid exhaust note.
FUEL

After installing a cold-air intake, computer chip, or other heavy-duty modifications your car has some real zip... but are you forgetting to give all it needs to run top notch? A fuel pressure riser can do that; a necessary modification after doing many, many other upgrades (beyond head work and sport camshafts) and such on your vehicle. As more air is entering your engine, the ECM does recognize this but does increase the fuel supply to the fuel injectors. The air/fuel mixture can be lean and may hit extremely low levels to where the car is starving for gasoline. A fuel pressure riser bumps that level back to a normal running state. Very few companies offer such a product and it runs for about $150 - $200. It's very easy to install and it holds the consistant horsepower you already have. But, the bottom line, if you're mods consist of small list, this particular product is not needed for you.

Some people have told me that a recalibraited Mass Air Flow sensor can also increase power. I don't have any confirmed reports about such a thing, but I am trying to conduct research about the topic. As for now, I can't agree or disagree: but only tell you the facts.
IGNITION

Spark plugs and wires are very important to have you car run well all the time. But the fact of the matter is that many motorists over look this simple idea to keep power and fuel mileage at it's best. Foul plugs lower performance after so many miles, usually around 25K-30K miles the plugs should be replaced. As being a GM man, I have stuck with AC Delco Rapid Fire spark plugs; I've had very good luck with them, and plug spacing comes preset. A set of six should run around $24 or so. You won't see a power gain, but you fuel economy will surely improve after installing any new plugs since more fuel is burned more completely.

Who of you on-lookers are electricians? Anyone? Does any here wire stereos? What's the best rule of thumb for wire width: thicker is better. Standard spark plug wires can hold the electrical current from the ignition coil, but it can be improved greatly. Companies out there do have precut 8mm, 8.5mm, and I've even heard that 9mm and 10mm wires are available for the DOHC, but only used for highly modified engines. Prices go anywhere from $50 - $200, and just like new plugs, fuel mileage is expected to rise since resistance of electricity is decreased.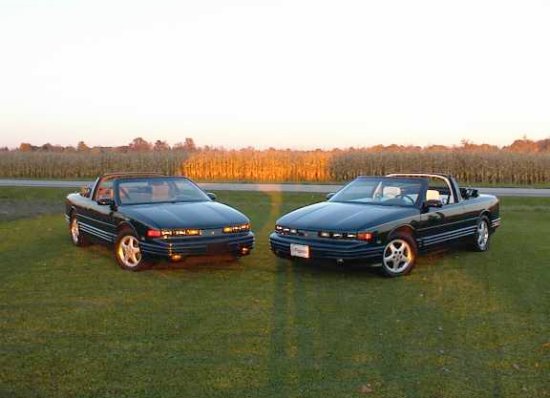 A pair of 1995 Oldsmobile Cutlass Supreme SL convertables in Dark Green Metallic
NITROUS OXIDE SYSTEMS
For some instant power increase for drag racing, nitrous oxide systems can produce anywhere from 10hp - 120+hp shots to get your car past the finish line first. The benefits of the this is that the system is pretty user friendly after installation. Mostly all NOS products use a push button firing system or a full throttle switch (which when the gas pedal is on the floor-board the nitrous is shot).
The major downsides of this are that usually older motors can't handle this volatile compound since the added heat and compression can severely damage the pistons, piston rings, seals, connecting rods and so on and so forth. Rebuilding components in the engine are highly recommend for using big shots of nitrous oxide, because spending $350 - $1200 on NOS is nothing compared to a damaged $2500 engine.
SUSPENSION

Handling on a vehicle can be increase by many different ways. Many choose to use bolt on products, such as strut tower bars, and sway bars. Strut braces decreases the 'body roll' of a car. Basically it makes the car use it's suspension parts as how they were designed to work, not having the frame and body bend as you take a corner. Companies sell them for about $100-$110 a piece (front/rear), but people have created there own for much less than retail prices.

Sway bars, or also know as Anti-Sway Bars, help with stability of the car. When taking a corner they help keep you wheel stick to the ground creating more contact and less margin of skidding out of control. Sway bars can run from $60-$120 and usually comes will all new bushings and hardware.

Lowering springs are another common way to enhance handling and to lower the center of gravity of your W-Body. Kits usually contain all four springs and retainers, but reuse your existing struts and shocks. Spring kits run anywhere from $250-$350, and can lower you car anywhere from 1" to 2.5". To get rid of your old leaf springs (if applicable) some companies offer the rear coilover conversion for around $450-600. Again, you can reuse you existing shock and struts, but for the most part, the market will tell into buying performance hardware... this one is your call. If you got the money I say go for it.