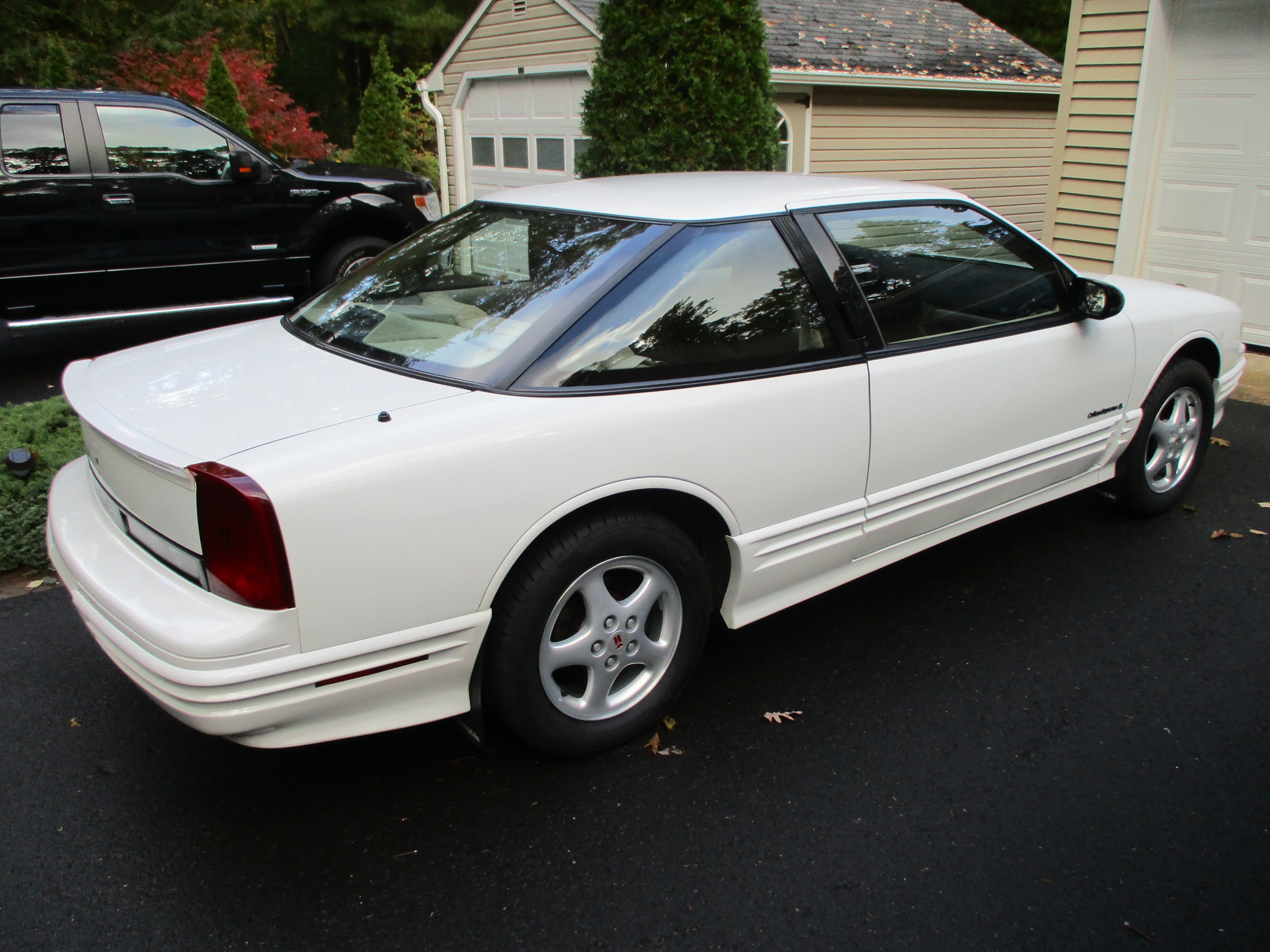 Content Count

171

Donations

$0.00

Joined

Last visited
It's worth every dime, even if the shipping is more expensive. Put one of these on your CS and you will never go back. HUGE improvement in the ride!

Just got back from putting about 1000 miles on my 1996 Cutlass, my only issue was my purchase of buying cheap RainX windshield wipers came back to haunt me. The passengers side blade just wouldn't stay put and kept popping off. In a pinch I used what I had, a 22 inch Michelin wiper, and although the manual calls for 20 inch on both sides, this 22 inch works so well I'm leaving it on. It j-u-s-t fits in the wiper well in the cowl (a drivers side 22" won't fit there) and I get the benefit of 1 inch more wipe on each side of the blade. So for now it's 20" drivers, 22" passengers side.

All good advice, thanks. Maybe I'll put it one for say a long trip and then remove it once I get there. However, These things are a bit of a pain to install, just as well leave it in the box for the next swap meet & sell it.

Excellent points both, and it would hide the Oldsmobile emblem as well

Over the winter I bought an NOS in the box genuine Le Bra for my white 1996 Cutlass (2 door). I got it at such a good price I couldn't pass it up. Anyone out there think it's a bad Idea to install one of these things? It says it wicks away any moisture which is a plus, but who knows. I'm in the Northeast so built up humidity is an issue. I'm on the fence as to whether I'm going to install it. One plus is that out of all the paint on the car, the front bumper is the weakest and the Le Bra would hide that quite nicely. It would really freshen it up.

Jim do you still have this boot, thx

WOW! When the time comes, post how you liked these or not, looks like one mean tire.

I never seem to get that far with any of my tires. They age out on me and need to be replaced (for safety reasons)way before they ever wear out. That even goes for my snows I have on my truck, they are going on their 8th year (which I've decided will be the last) and they are nowhere near the wear marks. I went with those new Cooper CS-5 Ultra Touring tires, 215-60R-16, V rated. So far so good with these. I had 225's (Uniroyal Tiger Paw) initially but my brother badly needed a set for his 1994 CS and the 225's were a better fit for the 3.4 package which his car has. So he got those and I went with the Coopers mounted on my refurbished 5 spokes.

If you ordered a rear strut bar from GOT2B GM, well done, I think you got his last one. You are going to love what this does. I have one of these in mine and I got his 2nd from last one for my brother who got my old 1994 CS from my Dad. Huge improvement and others look into the trunk they won't even know it's there. This piece, coupled with a front STB from the CS convertibles and a set of KYB's in all 4 corners really make one heck of a difference. All the better. I bought the new Coopers for the car as well. Right now the car is laid up until Spring, looking forward to Another year with this car.

Also, as these wheels are TOO nice to be sitting out all winter, I've already pulled them and currently have my saw blade wheels with snow tires on the car. It's ready to go in bad weather if needed but I'd prefer to just leave it under the car cover until Spring. In other words, EMERGENCY USE only

Galaxie500XL

reacted to a post in a topic:

Cutlass 5 Spoke Refinished Wheels

I've installed NOS Center caps to go with these as well as NOS plastic lug nut covers. I bought all those many years ago and I now finally have a chance to actually use some of this stuff

Ok, back from the road trip. Problem solved. Turns out the IAC I sent him directly on E-Bay was a total piece of S*&T. Luckily I ordered a 2nd one from my local parts store and doubly luckily I actually went and picked it up last week. I pulled the one I bought my brother and it literally fell to pieces in my hand. What a rip off. I installed the 2nd one I brought with me and the car is now running as it should, no racing, no sputtering, all good. Mission accomplished. Thanks everyone for this tip, it took some additional effort but it's now right.

Thanks, will do, I think it's time for a road trip to NJ to help him figure this out

Sorry, just saw this, I'm all set, the pair & spoiler are on the car & looking good.